It's been a top half-term for school visits!
First it was off to Capel St Mary Primary near Ipswich. Year 5 have all been reading
The Mystery of the Whistling Caves
, and it was lovely to chat to so many children who knew all about the characters and setting and plot - they had lots of predictions about who had stolen the Carrickstowe Hoard, so I had to be very careful not to give away any spoilers. These children had all become total mystery experts!
I loved working with each of the three classes to create new missing treasure mysteries. We came up with three very different, but equally brilliant stories - involving everything from mysterious alien rainbow orbs to ancient Egyptian gold.
Then it was off to Walsall to Park Hall Junior Academy - my third visit to work with successive Y5's to tie in with their reading of
The Phoenix Code
for their Ancient Egypt Topic. It was a delight to be back - the enthusiasm for reading and writing for pleasure in this lovely school is a joy to behold. It was great fun to come up with new lost artifacts with legendary powers for Cleo and Ryan to search for on their next adventure - I particularly liked
The Silver Potato of Brazil.
By the end of the same week I was back on the road (or rather the rails; my car has been out of action so it was cross-country train time) to one of my other favourite schools, Kensington Primary in Liverpool. - where I'm honoured to be Patron of Reading.
It was a very busy morning - including the official opening of their new library - it's been beautifully decorated so that it's like walking into a magical enchanted forest. I was proud to cut
the ribbon
(there's a little video of the moment on the Kensington School twitter feed!) - ably assisted by members of the the Liverpool FC Academy, who stayed on to read with the children. I also spent time chatting about Time Dogs with Y2 and reading them a few chapters, and doing a mystery-book vote with Y4. (The book the children chose (based on the blurb and the first page alone, was
A Moon Girl Stole My Friend
by Rebecca Patterson - a great read!)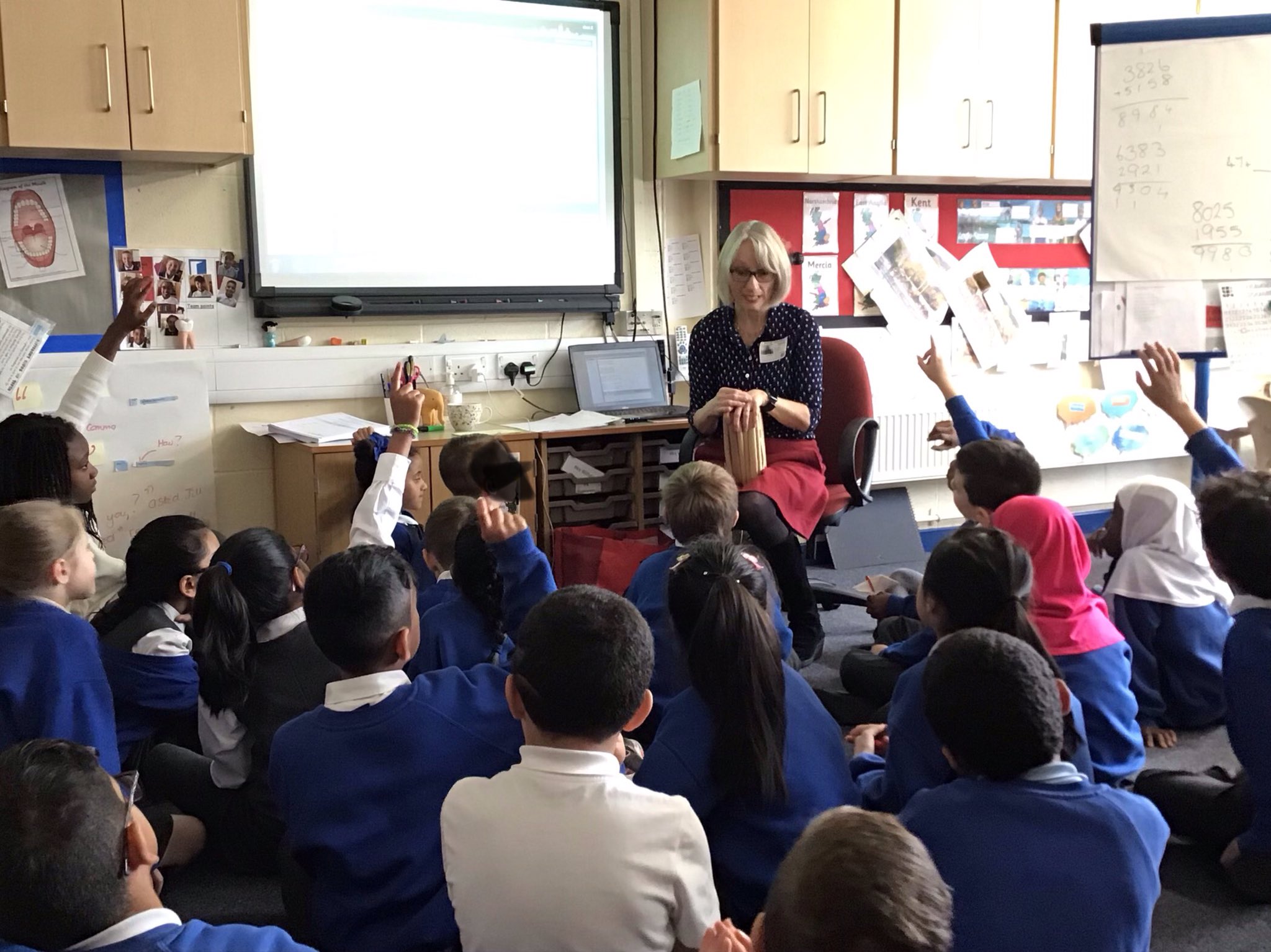 There are pictures from the Y4 mystery book compeition here and from the
Y2 reading here.
Thank you to all the teachers, teaching assistants and office staff at all the of the schools for organising these visits and making me so welcome.
If you would like me to come to your school, please see my School Visits page for more information.