January 2021
I love book blogs - and my favourites are those that are for young readers by young readers themselves. A new blog on the scene is The Book Review Society, founded by young book fan, Evie and her friends. I was delighted that they awarded Adventure Island a full five out of five bananas and to be invited to be their first author interviewee. You can read the interview and all the reviews here.

March 2020

Time Dogs - All Pack Alert!

Time Dogs 3, Barry and the Great Mountain Rescue is now out in hardback in America.

And Books 1 and 2 come out in paperback,
published by Square Fish.
Although not in bookshops in U.K. (except the fantastic Heffers in Cambridge) you can order on-line from Amazon UK by following the links above.
November, 2019
Time Dogs 1 on 'Best of Year' list
How exciting! Balto and the Race Against Time is included in the New York Public Library's 2019 Best Books for Kids list. There are so many great books on the list - fiction, poetry, graphic novels, non-fiction, books in English and Spanish. I'm really proud to have my first U.S. publication listed in this prestigious round-up. You can see the full list here.
November, 2019
Time Dogs 3
Now available for pre-order.
Featuring another stunning cover by Misa Saburi.
October 2019
The Not Starving Artist Podcast
I was delighted to be interviewed by Angie Noll for her podcast series in which she talks to people from all corners of the creative world about their work, process and inspiration. You can listen to my interview here - and have a browse through a long list of other really interesting chats with writers and artists - as well as finding all kinds of valuable resources on the rest of Angie's website.
July, 2019
Radio Lincolnshire
Sunday, July 21st, July, 2019. BBC Radio Lincolnshire, The Story Teller. I'll be the guest on this great new radio show hosted by rising star, Ella Wydrzynska- talking about writing, reading and creating the first chapter of an interactive story based on listener suggestions . . . this will be fun! You can listen to earlier episodes here . . .
June, 2019
Time Dogs
I couldn't be more delighted - Time Dogs have been included in the Scholastic Teacher Magazine's Fifty Best Books of the Summer Round-Up!
"Humor plus lessons about loyalty and kindness."
June, 2019
Adventure Island Top Ten!
June is not just about new series . . . Adventure Island may have been out a few years now, but I was really excited to see that it was included in the Top Ten Mystery Recommendations on the Golden Book Girl Blog. It's a brilliant blog, written by a fantastically talented young book blogger called Amy - who has been a great friend of Adventure Island - and, I'm proud to say, a friend of mine too!
"

I love the detective trio and their dog, I loved each and every interesting island-set mystery they solve over the series and the blend of history and present day in a lot of them worked very well indeed. Such a brilliant series."

June, 2019
Time Dogs
Super exciting news! The first two books in the Time Dogs series are published on June 4th - in USA. They are my very first hardbacks and they are beautiful - the design and production and the adorable illustrations by the very talented Misa Saburi make them really special books.
In this first adventure, meet Baxter, Trevor, Newton, Titch, and Maia—the time dogs!—as they find themselves transported through time and space to 1925 Alaska. There, deep in the wilderness, the puppies must help Balto in his famous sled race to deliver medicine during a diphtheria outbreak.
In this second adventure, Baxter, Trevor, Newton, Titch, and Maia—the time dogs!—find themselves transported through time and space to 1805 on the Missouri River. There, deep in the wilderness, the puppies must help Seaman, the dog of legendary explorers Lewis and Clark

.
From outside the US, you could order form the Macmillan website, or your local Amazon and they are on Kindle.
And US readers even have a chance to win both Time Dogs books and a bundle of other great MG adventure books from Macmillan by entering a sweepstake here. Enter by 21st June!
April, 2019
The Mystery of the Lost Hunter
Ta da! Out this month, my new early reader in the brilliant Rising Stars Reading Planet scheme. It's set near the Mayan city of Tikal - (the same world as The Serpent King - but for much younger readers this time!). Beautifully illustrated by Alan Brown - I love the vibrant rainforest colours - and look out for a very sweet baby anteater!
The Mystery of the Lost Hunter is part of the Galaxy range from Rising Stars Reading Planet. Galaxy offers a rich collection of highly decodable fiction and non-fiction for Pink A to White band. Children will broaden their knowledge and widen vocabulary through a diverse range of books which are ideal for cross-curricular reading. Reading Planet books have been carefully levelled to support children in becoming fluent and confident readers. Each book features useful notes and activities to support reading at home as well as comprehension questions to check understanding.
March 2019
Guest Lecture
I was honored to be invited to give a Guest lecture, Diploma in Creative Writing, Madingley Hall, Cambridgeshire this month. The students were doing a module on crime and thriller writing and my talk was about the fun of writing crime fiction for children. Madingley Hall is a beautiful setting. This was the view from the classroom.
November 2018
Patron of Reading
I'm delighted and honoured to have been invited to be the very first patron of reading for the brilliant Princethorpe Junior School in Birmingham. I can't wait to work with you to promote reading for pleasure in your school.
October 2018
Walsall Express and Star
October 2018
The Writers' Map
I'm thrilled to have a piece about Adventure Island and Leo's fantastic map of Castle Key in this beautiful book. Totally starstruck at being included in this stellar line-up too! Out now. It's a thing of beauty and would make a perfect Christmas present!
September 2018
Time Dogs - coming soon!
So exciting! Book 1 and 2 of my new series are now up on the McMillan website - publishing June, 2019. The cover image is still a place-holder (I've had a sneak preview but can't share it yet).
Here is the blurb!
May 2018
Fantastic Female Characters
Emily is very excited about being included in the Books for Topics recommendations of books with fantastic female characters.
"There are so many great examples of fantastic females in the current crop of middle-grade fiction that it's almost impossible to choose just one. Luckily my kids have jumped in and asked if they could nominate Emily Wild from the Adventure Island series by Helen Moss. According to my son, Emily has 'awesome skills' - she's brave, strong, great at surveillance and can row a boat better than anyone! My daughter says the best bit about Emily is that she has exciting adventures, but still feels like a 'real girl!' Both my kids say they'd like to be mates with Emily Wild. I can't think of a higher recommendation for a fantastic female! "
Thank you to Sam Hay for nominating Emily. There are lots of other great books in the list too.
April 2018
I'm proud to be Honorary Patron for Linton Children's Book Festival again this year. I'll also be giving a talk with Leo Hartas and chairing a discussion panel. Find out all about this packed weekend of free events for children of all ages (and their families) here.http://www.lintonbookfest.org/2018-festival-programme/
You can also hear me talking about it with Leigh Chambers on Cambridge Radio 105
November 2017
New Series
I'm delighted to announce that I have signed a four book deal with U.S. publisher, Godwin Books for
The Time Dogs, an adventure series for 5-8 year old readers. I can't wait to tell you more about it soon!
November 2017
Writers' Forum
I was thrilled to be interviewed by Anita Loughrey for the "Research Secrets" feature of the fantastic magazine, Writers' Forum. I had no idea that the interview would be highlighted on the front cover - "Raiders of the Story Arc" is a great tagline!
October 2017
Papers Pens Poets
Like most writers I'm a massive stationery fan. I love notebooks, pens, files & folders, so I was delighted to be interviewed for the brilliant blog, Papers, Pens Poets. You can find out more about my notebook collection here.
May 2017
Rising Stars
I had so much fun writing these two short mysteries for younger readers. These are published as part of the Rising Stars Reading Planet reading scheme for schools, but are also available to buy separately. Both are set in Scotland and feature two children using their courage and initiative to outwit the villains.
April 2017
Golden Egg Academy
I was thrilled to be invited to the the guest of honour at the Golden Egg Academy Spring Social in Cambridge. It was a truly delightful day in the company of some of the nicest people - all brilliant new writers - you can imagine. A buffet lunch, Q and A and readings, were followed by a delightful literary tour of Cambridge,

a book buying spree in Heffers

and a cream tea. Thank you to everyone who came along and espeically the organising committee, for a great day.
Ready for the Q and A with the lovely Philippa Francis
March 2017
School Visits
Its World Book Week School Visit Mania . . . hope to see you at a school near you!
February 2017
Bulgarian
I'm thrilled that Adventure Island books 1-6 are now available in Bulgarian.
January 2017
Big Read and Write
How exciting! I've been asked to be the featured author for this Year's Big Read and Write.
January 2017
World Book Day
This year World Book Day celebrates its twentieth year. Not only does that mean I'll have my busiest two weeks of school visits ever, I'm so excited that two Adventure Island books are featured on one of their book recommendation pages,
If you love Laura Marlin mysteries, try . . .
along with lots of other great books - here's just part of the page.
December 2016
Book Trust Christmas List
I was thrilled to see The Phoenix Code included on te Book Trust's list of Great Christmas gifts for 9-12 year olds. I hope Santa was reading this! You can see the whole list here - some great ideas for presents.
"

There's a fast-moving plot, plenty of cliff-hangers and unexpected bad-guys, with humour provided by interplay between happy-go-lucky Ryan and nerdy Chloe in this engaging, informative ancient historical mystery."
November 2016
Author in Residence
I am delighted and honoured to have been asked to be Author in Residence at the utterly fantastic Litcham School. Read all about it here.
October 2016
Scottish Book Trust
I'm honoured that The Mystery of the Whistling Caves appears on the book list for the Scottish Book Trust's First Minister's Reading Challenge. To find out more about the challenge for schools and pupils have a look at the great website. Good luck and happy reading if you are doing the challenge.
July 2016
Mystery and Mayhem in Amazon's Summer Reading picks
A great list of summer reads for 9-12 year olds . . .
July 2016
The Serpent King Launch Tour
Thank you to all the fantastic schools and libraries that hosted me on my mini book tour. It was a pleasure to meet you all and I hope that you enjoy reading The Serpent King.
Ropley Primary School and Whitchurch Primary School in Hampshire, Fleet Library, and Curzon CofE Combined School in Buckinghamshire.
Whitchurch Primary: designing a snakes and ladders game for Cleo and Ryan's next adventure
July 2016
The Serpent King is out!
July 16th is the official launch day for the third and final installment of the Secrets of the Tombs series. I have lots of special Serpent King school visits lined up for July, plus a launch event at Fleet library in Hampshire. You can rush over and buy your copy here - or even, better, from your local independent book shop!
May 2016
Dyslexia Action
I'm delighted that The Mystery of the Whistling Caves has been listed on Dyslexia Action's May selection of 10 Books With A Mystery to Solve - it's lovely to be in a line-up with great books by some of my favourite authors.
May 2016
Mystery and Mayhem on Middle Grade Strikes Back
I had great fun writing all about the eighteenth century setting of my story The Mystery of the Pineapple Plot for the brilliant blog, Middle Grade Strikes Back. This was part of the month-long blog tour - you can follow all the posts by the twelve authors by checking out all these amazing book blogs . . .
May 2016
Linton Book Festival
What a magnificent weekend! Being honorary patron of this great children's festival was an absolute privelege, as was meeting the children of Linton Heights Junior School on my author visit in the same week, not to mention the delightful Balsham maze story-telling event. There are lots of photos of the festival here
https://www.flickr.com/…/72157668403253592/with/27154622456/
May, 2016
Mystery and Mayhem
The fabulous 'crime club' anthology, Mystery and Mayhem anthology launched on May 5th. Edited by Robin Stevens, an introduction by Katherine Woodfine, published by Egmont, and packed full of twelve short mystery stories by twelve different authors (including ME!).
Twelve mysteries.
Twelve authors.
One challenge: can YOU solve the crimes before the heroes of the stories?
These are twelve brand-new short stories from twelve of the best children's crime writers writing today.
These creepy, hilarious, brain-boggling, heart-pounding mysteries feature daring, brilliant young detectives, and this anthology is a must for fans of crime fiction and detection

. . .
April, 2016
Top Ten . . .
Double excitement to see both Adventure Island and Mystery and Mayhem in this Top Ten round-up on the Teens on Moon Lane Blog - along with lots of my favourite books.
Thank you very much to Jim Dean, who is one of the most inspiring and hard-working book-bloggers on the planet!
Find out more here:

Top Ten Tuesday: Top Ten Books For Aspiring Detectives
March, 2016
Patron of Reading Part Two
Continuing the 'patron' theme, I'm very excited to have been asked to be patron of reading for a second school. Kensington Community Primary in Liverpool is one of my favourite schools - one that I've visited several times - and I'm so delighted to be able to team up with the wonderful people there to promote a love of reading.
reading to Class 1B at Kensington Community Primary
January 2016
Honorary Patron
I'm delighted to have been asked to be the Honorary Patron of Linton Children's Book Festival. I've loved speaking at this brilliant festival over the last few years and am very excited to get more involved in promoting all their great work. I'm looking forward to taking part at this year's festival in May - watch this space for more information when the programme comes out. In the meantime, you can find out more on the Linton Festival
website here.
December 2015
Patron of Reading
I'm delighted to have been invited to be the patron of reading for the wonderful North Kidlington Primary School. The patron of reading scheme is a fantastic initiative that pairs authors and schools to promote reading for pleasure.
November 2015
SCBWI Conference, Winchester
It's such a treat to spend the weekend with fellow writers and illustrators. Catching up with old friends, meeting lovely new ones and learning all kinds of practical and inspirational new things. I joined in the Mass Book Lauch celebratrions with The Dragon Path too.
November 2015
Anti Bullying Week
I was delighed to support the Anti Bullying Week by contributing a guest blog post to the brilliant Bedfordshire on-line marketing company, Specky&Ginge, as part of their campaign. You can read my story here.
If you want to know how Emily Wild dealt with some bullies at her school, you can find out in The Mystery of the Hidden Gold, p96.
November 2015
Kids Lit Quiz
It was great fun to be part of the author team at the Norfolk heat of the Kids Lit Quiz. The authors were pipped at the post in the last round by the winning team. Congratulations to Litcham School - who were also the national winners last year. I'm looking forward to meeting you again at the national final next month. It was a fabulous afternoon and it was great fun to meet two other authors I'd not met before - Alex Scarrow and Alexander Gordon Smith, as well as the fourth member of our team, librarian, Julie. Well done to everyone who works so hard to organise the quiz.
hmmm . . . another tricky question
November 2015
Mystery and Mayhem
I was really thrilled to be asked to contribute a story to this fantastic anthology of mystery stories for middle grade (8-12 yo) readers, edited by Katherine Woodfine. It is published by Egmont, comes out in May, 2016, and is now available for pre-order. This is what it looks like . . .
October 2015
Career Mentor
I'm so pleased to have been invited to be a career mentor by the
Villiers Park Eductational Trust
and very much look forward to working with them.
"Villiers Park Educational Trust helps able young people to develop a passion for learning and the study and life skills to ensure they reach their full academic potential. We are committed to fair access – ensuring able students from less advantaged backgrounds gain places at leading universities and thrive once there."
June 2015
The Dragon Path book birthday
The Dragon Path, second in the Secrets of the Tombs series is published on June 4th. Follow Cleo and Ryan on their next adventure . . . this time in China.
June 2015
Cambridge News Interview
I was interviewed by the lovely Leigh Chambers, who presents the Bookmark Show on Radio 105 and writes on all things book-related for the Cambridge News. This article actually appeared in April but I managed to miss it (I was away on holiday!) so here it is now!
The Big Read and Write
May 2015
I was delighted to be asked to help judge a Horrid Henry story-writing competition that has been running in Cambridge Schools over the last few months. I joined fellow author Pippa Greenwood and Suzie Young, Co-ordinator of the KITE Teaching School Alliance Cambridge at the Spinney Primary School in Cambridge. The title was Horrid Henry Goes to the Museum, and all the stories were great run, with Horrid Henry getting up to all kinds of mischief. We picked a brilliant winner . . . but we're keeping it under wraps until July when we present the prize in person . . . watch this space!
The Phoenix Code Art Competition Winner
April 2015
I'm delighted to announce the winner of the World Book Day art competition to draw a picture inspired by the ancient Egyptian setting of The Phoenix Code. The winner is ten-year old Serge Wynne from Hampshire. Serge's prize is a bundle of books from Orion Children's Books and he will also feature as a named character in Book 3 of the Secrets of the Tombs series. Congratulations to Serge and to everyone else who entered the competition.
presenting the prize to Serge Wynne
we make the headlines in the Alton Heral
Bath Half Marathon
March 2015
This is nothing to do with books, but when I'm not glued to my chair writing I do like to run around a bit and I can't resist telling everyone that I completed my first half marathon on March 1st. I ran with my lovely sister and niece.
We ran every step of the way, with no walking or crawling (although there was some growling!)

and we all crossed the finishing line together. We had a great day and raised money for the Pancreatic Cancer Research Fund too. And we got medals!
The Phoenix Code Competition
January 2015
The competition to draw a scene in the style of Ancient Egytpian wall paintings is now closed. Who will win and have the chance to be a named charater in the third Secrets of the Tombs book? Results to be announced very soon . . .
Cambridge105.fm interview
January 2015
I really enjoyed chatting with Leigh Chambers on her Bookmark programme about Enid Blyton, reading, writing and music (I even got to chose three of my favourite inspirational tracks to play during the interview). You can listen to the podcast here. There are also interviews with Pippa Goodhart and Clementine Beauvai on the same programme.
Oxfordshire Book Awards
November 2014
I'm thrilled that The Phoenix Code has been included on the longlist for the Oxfordshire Book Awards (Primary School Category). Nominations and judging are all carried out by children through their schools and libraries, so thank you to all the lovely readers who helped The Phoenix Code ge

t

onto the list - and it's in great company too! If you want to see the full lists you can find them here.
Blackwells Books of the Year
November 2014
It was a lovely surprise to see the poster in the window of Heffers bookshop in Cambridge and spot The Phoenix Code among their Children's Paperbacks of 2014. Thank you!
The eagle-eyed might spot it - second from right on bottom row
French Adventure Island
November 2014
The first four Adventure Island books are now out in French. I love the cover artwork - it's quite dark and shadowy but very atmospheric - and Drift is super-cute!
Reader Blog Interview
October 2014
I was delighted to answer some interview questions for young blogger and Adventure Island/Secrets of the Tombs reader, Jed Owens. You can find out what I think are the two best jobs in the world and discover my secret goal in life by heading over to
Jed's website.
Times Educational Supplement
September 2014
I was very honoured to be asked to write a "How I Teach" piece for the Times Educational Supplement - even though it made me feel something of an imposter as I am not a teacher. I wrote about scarab beetles and hidden messages. You can see an on-line version of the piece (without pictures) here.
Booktrust Recommended Reads
August 2014
The Booktrust Book

b

uzz includes the The Phoenix Code in its list of recommended read for Autumn Term
Goodreads Giveaway
August 2014
Would you like to win a free copy of The Phoenix Code? Goodreads have 20 copies to give away! All you have to do is register on the goodreads page before August 14th!
Thank you, lovely readers!
August 2014
You've been out buying lots of books! I was so excited when Orion Children's books tweeted this lovely celebration message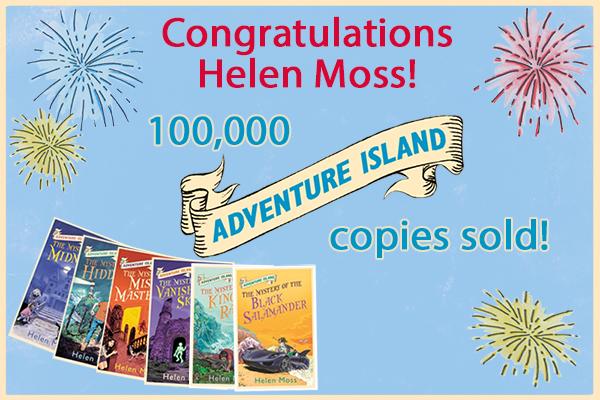 A lovely review of The Phoenix Code . . .
July 2014
. . . was inclued in the "Series Starter Recommendations" feature on the fabulous book blog YA Yeah Yeah. The review also has some nice things to say about the Adventure Island series, espeically Drift (waggy tails all round!). Although this blog is mainy about Young Adult books (the clue's in the name) many Middle Grade books are reviewed here too, so it's a great place to look for ideas about what to read next.
"As I'd come to expect from the earlier series there's a great plot with a challenging mystery for the heroes to solve and a huge amount of action packed into the book. Unsurprisingly, I made lots of guesses about, well, pretty much everything, and got NEARLY all of them wrong - even though I'm sure I should have been able to pick up on clues!"
Click here for the full review.
Thank you very much to YA Yeah Yeah!
A short video for the Summer Reading Challenge
July 2014
This can now be see on The Guardian Children's Books website
Q & A in The Guardian Children's Books
July 2014
To find out
how I try to answer reader, SuperBen's great questions about inspiration, characters and research click here.
The Phoenix Code is in The Sun summer reading round-up
July 2014
It's only a two-liner but the cover is there for all to see, and it's there alongside some great recommendations like Wilds of the Wolf by Steve Backhall and Millie and the Mermaids by Maudie Smith.
you might need your magnifying glass here!
The Phoenix Code is now out!
July 2014
And to celebrate, there's a great competition on the
The World Book Day website
where you can win one of ten free copies . . . and read an extract of the book too.
The Phoenix Code is in The Guardian Best Kids' Books Supplement
June 2014
The Phoenix Code features on Lovereading4kids Exclusive - Pre Publication Books
June 2014
You can even read an extract - before the book is published next week!
Have a look here
for more details - as well as lots more exciting pre-published books.
A lovely reader review for The Phoenix Code
June 2014
The Guardian Children's Books
by SuperBen
'This book is exciting and fun to read, but it is also interesting as you learn a lot about Ancient Egypt'
The girl is called Cleopatra and she is the daughter of a historical scientist. The boy is called Ryan and he is the son of a reporter. In their search for the Benben stone, Ryan swims in a river full of parasites, Cleo nearly falls in a deep pit, the children get chased by a janitor, and lots of other dangerous and exciting things happen.
This book is even better than the Adventure Island series and it is such a page-turner. It is as exciting and fun to read, but it is also interesting and you learn about Ancient Egypt. I think the characters are good for the book because Cleo is quite sensible and serious and Ryan is quite funny and artistic so they make a good team.
I would recommend this book to boys and girls who have read the Adventure Island books and who are 7 to 10 years old.
Thank you SuperBen - I'm so pleased you enjoyed The Phoenix Code!
The Phoenix has Landed
June 2014
Look what came in the post yesterday! My author copies of The Phoenix Code.
This is a hopeless photo - the covers are much bluer and golder and glossier than they look here.
Publication date is July 3rd, but watch this space for a competition coming soon to win an early signed copy.
Story Museum Character Archive
May 2014
Woo hoo! So exciting to see your friend and mine, Miss Emily Wild, has been submitted by a reader to the Oxford Story Museum Character Archive website.
She's rubbing shoulders with the likes of Willy Wonka and Mr Pinkwhistle (a great favourite of mine when I was younger), Horrid Henry and Hermione Granger. I have a feeling Hermione and Emily would be great friends!
The awesome reader, called Felix, drew this cool picture of Emily (and Drift, of course) as well.
I can't wait to visit the Story Museum one day soon . . .
I love the duck t-shirt Em's sporting here!
Books for girls? Books for boys? Books for everyone?
April, 2014
There's been something of a debate going on lately about whether it's a good thing to market books specifically for boys or girls. I've nothing against pink sparkly covers for books about princesses/romance/cupcakes (all great things) and moody burning-helicopter covers for books about ninja spies/pirates/dinosaurs/crime (also great things, apart, obviously from crime which is not so great, but great to read about) as long as they are not the only thing available and there's lots of choice on the shelves for all reading tastes.
But I'm not a fan of saying "this is only for girls" or "this is only for girls" on the front. Why shouldn't boys read about cupcakes and girls about dinosaurs? And I wanted
Adventure Island
to be a series that appeals equally to boys and girls. I like the idea of boys and girls reading the same books and talking about them together. So I was really pleased when
The Mystery of the Missing Masterpiece
was cited as a book for "everyone" in
Katy Guest's column
in The Independent (even better that these were the words of an eight-year old reader.)
We've moved on a long way from the 1930s when these delightful tomes were given to my grandfather by doting aunts and uncles. However, I do think we should have a campaign to bring back the one-piece swimming costume for boys!
Message from The Hague
March 2014
I was delighted to hear that Maria Montessorischool in The Hague in The Netherlands are reading
Het mysterie van de fluitende grotten
for their book club this month. I love this cool picture that they sent me! Happy reading, everyone!
World Book Day
March 2014
One of the best days of the year! One of the £1 books, The Midnight Picnic, is by one of my favourite authors, Lauren St John (who is also published by Orion). And I was thrilled to find that two Adventure Island books are featured on the official "try this" list on the World Book Day website. Hooray!
National Library Day
February 2014
I was delighted to be featured in the National Library Day display at the wonderful Fleet Library in Hampshire - especially as I was lucky enough to be in some very illustrious company there! Meg Rosoff? Marcus Sedgewick? Ali Sparkes? Fab!!!
Avontureneiland
January 2014
The Mystery of the Whistling Caves and The Mystery of the Midnight Ghost are now available in Dutch.
For a review in Dutch see here.
And another, review, (translated into English by google translate), see here
Heffers 2000 Party
October 2013
Heffers Children's Bookshop in Cambridge is a fabulous supporter of local authors. Promotions, launch parties, events, displays . . . they do everything they can to help - including providing books for me to take out on school visits.
This month they were kind enough to hold an Adventure Island party at the shop to celebrate the fact that they have now sold 2000 Adventure Island books.
It was a lovely evening, with friends, local children, and a special guest of honour . . . Rosie Armitage, winner of last year's Operation Diamond competition. The
prize was to be a name character in The Mystery of the Phantom Lights. The prize couldn't have gone to a nicer girl, and it was great fun to read out a passage from the book, with Rosie reading out her own lines.
The part where Jack realises that the "stalker-beast" is a girl!
Thank you to manager, Clair, and all the staff at Heffers for arranging it all, and to Hermione Lawton and Robin Stevens for coming along from Orion Children's Books too.
A Ilha da Aventura
August 2013
The Mystery of the Whistling Caves and The Mystery of the Midnight Ghost are now available in Portuguese. Books 3-6 coming soon too!
The Mystery of the Secret Room
July 2013
so that's where Jack's socks are!
When Boomerang the cat disappears into a tiny gap behind the fireplace at Stone Cottage, Scott, Jack and Emily are amazed to discover a secret room that Aunt Kate never knew existed! But what was the room created for? Inside is very little other than an enormous old chest which Jack is convinced must be full of treasure, but what secrets will be revealed when the friends finally manage to open the box?
Audio Adventure Island
June 2013
If you would like to listen to The Mystery of the Whistling Caves,
Oakhill Audiobooks have now published an audio version on CD - available from libraries.
Hear those caves whistle!
Adventure Island in Japan
June 2013
The Japanese editions of the first three Adventure Island titles are now available. Utterly beautiful productions, with new covers and illustrations. I love the new manga look Jack, Emily and Scott, and especially teddy-bear Drift!
The Mystery of the Whistling Caves
The Mystery of the Midnight Ghost
The Mystery of the Hidden Gold
Fleet Library, Hampshire
Junior Library Librarian's Choice for May
May 2013
Thank you to the lovely librarians at Fleet Library for promoting Adventure Island to your readers!
Quiz winners at Denfield Primary School
April 2013
I was thrilled to hear from Mrs Hynes, the Y6 teacher at Denfield Primary School in Northamptonshire that I was their "Author in the Woods" for the week. What an honour to have this fabulous display all about the Adventure Island books in their library.
Here are the winners of their Adventure Island quiz with their prizes - signed copies of the books, of course!
Congratulations everyone, and I'm looking forward to meeting you all when I visit your lovely school in September!
L-R, Ellie, Esmi, Michael and Evan
Quiz winners
Not long now . . . books 11 and 12 will be out
on May 2nd, 2013
And here is the cover of Book 12, The Mystery of the Black Salamander. I love the slightly psychedelic colours on this one!
Not your average car!
The Mystery of the Vanishing Skeleton
Oxford Mail's Junior Book of the Month
February 2013
Photograph from Oxford Mail
Josh Clark of Waterstones, Oxford with a certain book . . .
Woo hoo! I'm so excited to be book of the month for the Oxford Junior Book Club. And there's more - a spectacularly lovely review of The Mystery of the Vanishing Skeleton and the whole Adventure Island series from Josh Clark, bookseller at Waterstones, Oxford.
I was especially happy that Josh felt that the books are good for reluctant readers, and also the wonderful quote:
"Helen Moss is one of those writers who have realised children are not stupid.
The books are not dumbed down, but they are not difficult to read either."
Adventure
Island 11
January 2013
The cover design for the next new book is revealed. The Mystery of the King's Ransom won't be coming out until May but is available for pre-order if you can't wait! The cover shows Scott and Jack climbing the steep cliff path from Forgotten Cove, while Emily and Drift stay on board Gemini, on the trail of a boatful of suspects in their latest perilous investigation.
Not a good time for Scott to
remember he's scared of heights!
It's official! Adventure Island doesn't lead to
nightmares!
January 2013
Without an excessive fear factor?
I'm not sure Jack would agree!
In her "Ask Lorna' column in The Telegraph book section, Lorna Bradbury suggests the Adventure Island series as one of her recommendations for children who want "
adventure books without an excessive fear factor." It's very exciting to be mentioned in an illustrious line-up, including How to Train Your Dragon and A Series of Unfortunate Events, and last (but I like to think not least!)
"Helen Moss's Blyton-esque
Adventure Island
stories."
Read all about it here!
Adventure Island in Canada
December 2012
A thrilling international TV appearance for The Mystery of the Whistling Caves - selected as one of the recommended books for last minute Christmas presents by KidsBooks in Vancouver and shown on BCTV Global . . . click here if you would like to see the video clip (there are some great book choices there too!)
SCBWI Launch Party
November 2012
Photograph by Candy Gourlay
I was delighted to take part in the mass launch party for members of the Society of Children's Book Writers and Illustrators at their annual conference in Winchester. All members with new books published during 2012 had a moment of glory on stage at the wonderfully glamourous event in the Guild Hall in Winchester. The presenter was Lin Oliver, the lovely American writer of many warm and funny children's books.
As Featured on Wamki
November 2012
I'm very excited to tell you that the Adventure Island books are now featured on wamki.com - a brilliant, fun website packed with ideas for presents for kids from babies to
teenagers. For more information, see my blog post about it here.
School Visit Update
October 2012
It's been a busy month for school visits. I had a lovely day with Reception, Y1 and Y2 children at Acremont Kings Ely. I was overwhelmed by the children's enthusiasm for reading and writing and solving mysteries
. I had great fun talking about all the objects in
Emily's investigations kit with you all.
Then I was with Y7, Y8 and Y9 pupils at Comberton Village College for an action-packed morning. We talked about all kinds of things, including genres of fiction, book covers, Total Wipeout and Oompa-loompas without heads (you had to be there!). The Y9 boys, in particular, impressed me with their amazing creativity and humour as we made up some crazy "flash fiction" short stories.
Then it was off to Meldreth Primary School for a wonderful morning of talking about books and writing stories with Y4, 5 and 6. I was delighted and honoured that they had all been reading Adventure Island books in class, and had even created a spectacular wall display of The Mystery of the Midnight Ghost. Thank you, Meldreth! One of my favourite school visits so far!
Fantastic Book Awards
September 2012
Woo hoo!
The Mystery of the Whistling Caves has been nominated for
Lancashire
School Library Services
Fantastic Book Awards
long list.
The Fantastic Book Awards aim to support reading for pleasure and enjoyment by introducing newly published fiction titles to upper KS2 pupils.
The winners are chosen by pupils in Lancashire primary schools and will be announced in Spring 2013
Blog Interview
July 2012
Fabulous writing blogger Morgen Bailey has relaunched an author interview we did last year on her new look blog - an amazing collection of interviews with authors from every genre you can imagine - and lots of informative and interesting information on all aspects of writing and the writing life. Morgen has also started up a blog creation service for authors which could well be worth checking out for busy authors who would like to start their own blog and would like some expert guidance . . .
Holyer an Gof Award . . .
July 2012
The Mystery of the Whistling Caves was awarded a Holyer an Gof prize
by
Gorsedh Kernow
for publications relating to Cornwall or the Cornish Language - read all about it here.
And here is the article on the
This is Cornwall
website.
July 2012
The Mystery of the Invisible Spy was featured in
The Telegraph summer reading list for 8-10 year olds.
"Book 10 of a series that harks back to Enid Blyton. The likeable characters are reanimated for the 21st century, and everything is brought up to date, including bullet proof glass and MI5."
OPERATION DIAMOND -
the exciting on-line treasure hunt... is closed. The winners are announced here! If you would still like to read all the blog posts and do the treasure hunt just for fun all the information is still up on the Operation Diamond page on this site.
June 2012
The Mystery of the Drowning Man is a featured book of the month on the

Love Reading For Kids

website (along with The Mystery of the Whistling Caves and The Mystery of the Midnight Ghost)
Julia Eccleshare's comment:Cracking adventures on the island of Castle Key are at the heart of this exciting series. Jack and his brother Scott are sure their holiday in this remote location in Cornwall will be dull. But, how wrong can they be? Jack and Scott team up with Emily and her bouncy dog Drift whose home is in a converted light house and soon find the Island is full of surprises and excitement. First there's the mystery of why the caves have lost their whistle (in

The Mystery of the Whistling Caves

), then there's the shock of a film star going missing (in

The Mystery of the Midnight Ghost

) and finally there a man who almost drowns on the beach (in

The Mystery of the Drowning Man

). Can the friends pull him from the water in time and can they find out who he is? With its crumbling cliffs, pounding seas and interesting cast of inhabitants, Castle Key turns out to be a wonderful place for a holiday.
The latest Adventure Island books out now . . .
The Mystery of the Smugglers' Wreck
shipwrecks, smugglers, sharks, jellyfish, poisoned chocolate cake, mazes and riddles . . .
The Mystery of the Invisible Spy
secret agents, hidden codes, rare butterflies, collapsing piers, fake identities and double crossing . . .