Speaking at Cambridge Literary Festival, 2015, Photograph by Chris Boland


Upcoming Events and School Visits
This section will be updated soon once normal service is resumed after COVID19


Past Events



May 26th, 2012, St Ives Book Jam, St Ives Corn Exchange, Cambridgeshire
June 24th, 2012, 2.00, Bedfordshire Children's Book of the Year 2012, Flitwick Village Hall, Beds.
July 28th, 2012, Book Signing, Waterstones, Bishops Stortford
September 18th, 2012,
North East Book Fest
, Castlegate, Newcastle
November 2nd, 2012,
Cambridge Festival of Ideas
,
Dastardly Deeds and Shady Shenanigan
s, 4pm
February 25th, 2013 2.00 pm, BBC Radio Cambridgeshire guest with Sue Dougan in the Afternoon
May 23rd, 2013, Oxford Schools Bookfeast, Ashmolean Museum, Oxford.
Salamanders, Sleuths and Superpowers
July 3rd, 2012. Eastern Youth Libraries Group AGM and training morning. Central Library Cambridge.
July 16th, 2013 Drop-in community event, Milton Rd Library, Cambridge
July 22nd, 2013 2.00 pm, BBC Radio Cambridgeshire guest with Sue Dougan in the Afternoon
October 23rd, 2013, Heffers Children's Bookshop Adventure Island party
Reading with Operation Diamond winner, Rosie Armitage




November, 2013, SCBWI Mass Book Launch, Winchester
November 30th, 2013 Heffers Children's Bookshop Christmas Family Day, Cambridge
YHA Book Bonanza Day, Cambridge YHA,

Tenison Rd, Cambridge, September 7th, 2014, 10-5pm
Phoenix Code Event and Signing, Waterstones , Cambridge

, September 20th, 2014, 1pm.
Reading from The Phoenix Code at Waterstones, Cambridge
Ramsey Book Jam,

October 11th, 2014, Ramsey Primary School, Cambridgeshire 3pm
Cambridge Literary Festival, April 19th, 1pm.
St Ives Book Jam, May 9th, 2015, 2.30 pm,
From Adventure Island to a World of Adventure: A Mystery Around Every Corner
Find out more here
Oxford Book Feast Schools Festival, May 21st 2015
The Dragon Path Book Launch, June 13th 2pm, Heffers Children's Bookshop, Cambridge
A Midsummer Mystery, Storytellers.Inc Bookshop, St Annes on Sea, Lancs, June 21st, 2015
29th August, The Dragon Path signing and activities, Waterstones Bookshop, Cambridge
3rd October, 2-4 pm, Heffers Children's Bookshop, Cambridge. Mystery and Mayhem (with Katherine Woodfine and Patricia Elliott)
6th October, 2015,

Cheltenham Literature Festival Schools Programme
17th October, 2015, 3pm. Ramsey Book Jam, Ramsey Junior School, Cambs
24th October, 2015, Cambridge Festival of Ideas: Lady Mitchell Hall, Sidgewick Site, Cambridge, 11-12. Kid Power: Children vs Adults in Junior Detective Fiction
21st November, 2015, SCBWI-BI Mass Book Launch, Winchester Conference
4th December, 2015, Kids Lit Quiz, National Final, Oxford
22nd February, 2016, Cambridge Library Group Meeting, Heffers Childrens Bookshop.
Linton Children's Book Festival, May 22nd, 2016.
Kensington Community Primary School, Liverpool, June 10th, 2016 (Patron of Reading launch event)
Bengeo School, Hertfordshire, June 24th, 2016 (Mango Day event, fundraiser for Beanstalk)
Mystery and Mayhem Schools Event with Booka Books
The Marches Academy Trust Festival of Education
The Marches School

,

Morda Road

,

Oswestry, Shropshire.
Friday July 1st
The Big Read at the Big Weekend, Parkers Piece, Cambridge
Heffers Children's Bookshop, Cambridge
Sunday 7th August, 2-4pm: Memory, Mystery and Magic! with Katie Dale, Helen Moss and James Nicol
Read all about it in this lovely Girls Heart Books blog post by Katie Dale.

Fleet Library Big Friendly Read Summer Reading Challenge Launch
Saturday 16th July, 10 am.
Bedford Booktastic Bookfest
Friday 28th October, 11.30 am
Panacea Museum, Bedford
"Helen Moss, author of the Adventure Island and Secrets of the Tombs series, shares her top tips for writing exciting mysteries. Find out all about crimes, clues and cliffhangers, as well as the secret ingredients of friendship and teamwork. You can even help to assemble a new gang of intrepid young super-sleuths."
Kid's Lit Quiz, Central England Heat
10th November, Comberton Village College, Cambridgeshire
Kid's Lit Quiz, National Final
7th December, City of London Girls' School
June 13th, 2017. Empathy Day
I will be visiting The Spinney Primary School in Cambridge to take part in their Empathy Day activities.
Empathy Day is a platform to emphasise

the importance of empathy in our divided world and raise awareness of the power of stories to develop

it.




The Day

is

being

launched

by

EmpathyLab, a

new

organisation

with

a mission to

use

stories

to

help

us

understand each other better led by Miranda

McKearney OBE, founder of The Reading Agency.
Saturday 8th July, 2017 Wimpole History Festival.
You can see the full programme here. And follow their links to book a ticket..
1st October, 2017, Somersham Library, Cambridgeshire. Summer Reading Challenge Awards Day.
6th January, 2018, Fitzwilliam Museum, Cambridge, Family First event, 2-4 pm
28th April, 2018, Empathy Cafe, Loughton Library, Essex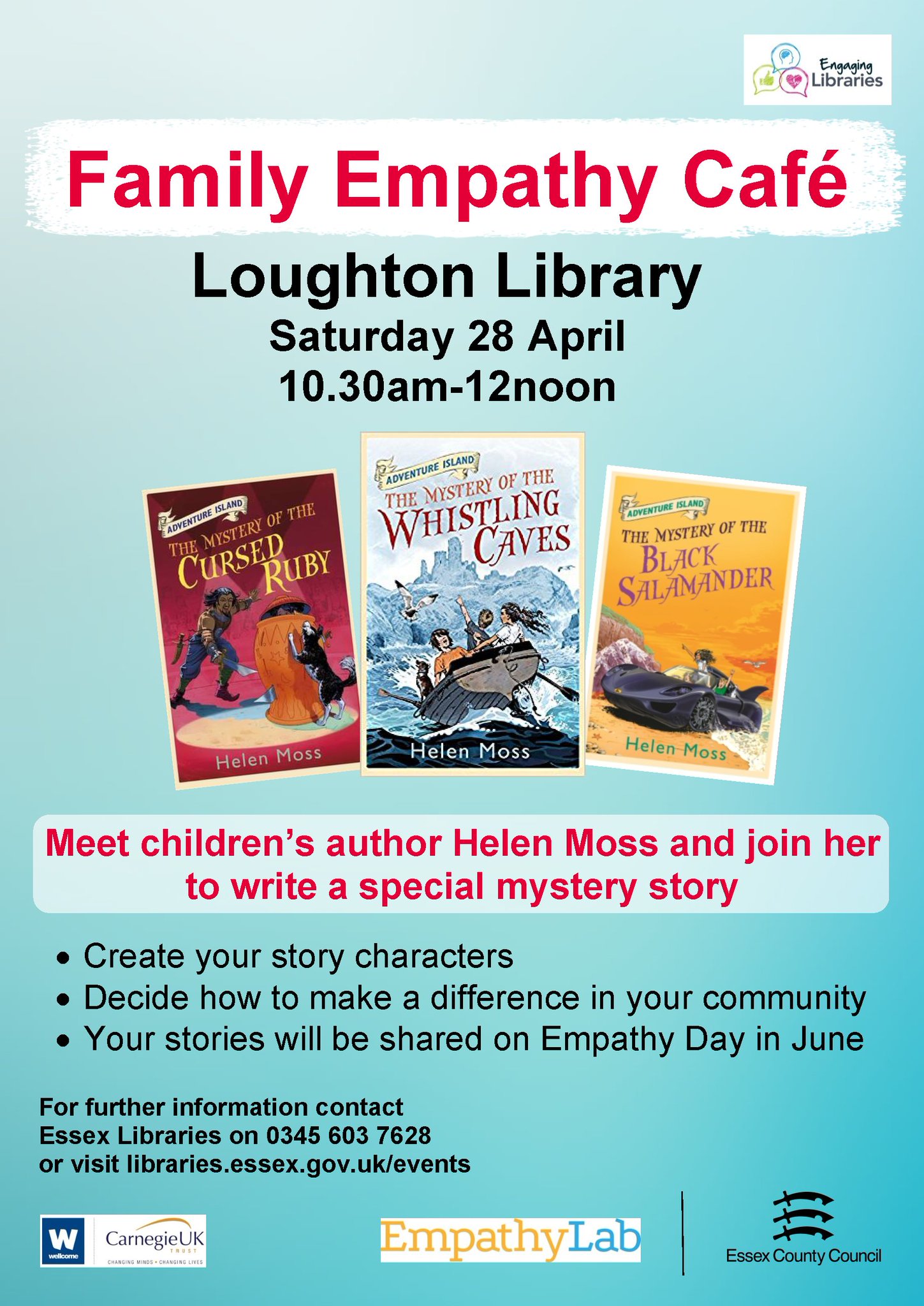 12th May, 2018, Thorpe House School Literature Festival.
19th-20th May, 2018, Linton Children's Book Festival, Cambridgeshire
The Wildwood Rumpus Festival, Saturday 8th June, 2019
Come along to this lovely family festival near Linton, Cambridgeshire - I'll be in the Heffers Literary Tent with stories and crafts alongside lots of other lovely authors.
Saturday, September 7th, 2019, 2pm-4pm. Local Authors Day, Cambridge Central Library.

Come along to the library to meet lots of children's authors and illustrators - there'll be games, stories and craft activities - and a writing workshop for children, run by me and Camilla Chester. And it's all free!